Window Wall
The window wall air conditioner units offer a cost effective way to provide heating and cooling. They can be permanently mounted in the wall or temporarily in a window opening.
Benefits of a Window/Wall Air Conditioner:
Lower initial cost
Smaller unit that can plug into a standard power point
Can be self-installed if a power point is available
Most units have remote controls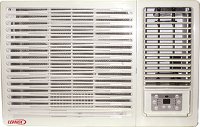 Lennox
A convenient and cost competitive alternative to wall mounted splits and heat pumps, the Lennox window room air conditioner is fast and easy to install in window and wall areas. Your bedroom, lounge room, study or home office will feel cool in summer and cosy in winter, without heating up your energy bills.
The Lennox window room air conditioner is also ideal for small commercial venues like retail shops, small offices, on-site work sheds and school office buildings, where ducted air conditioning or split systems are not practical or where there is an existing window unit.
It features remote control operation and a digital display so it's easy on the eye and budget, and provides year round climate control at the touch of a button.
Download the Lennox Brochure for more information.