12 Volt Pumps
Being powered by 12v DC these pumps are used in the automotive sector. Pumps are available with built in pressure switches for automatic operation or as a simple on/off arrangement.
Coming in different build specifications, they are suitable for potable (drinking) water, general water and chemicals.
Some of the applications include small spray units, caravan and campervans.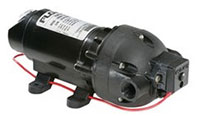 Flojet Triplex Model 03521-500A Pressure Pump 12v DC (Santoprene/Viton) 13.6 L/Min Max
The triplex diaphragm series features models that deliver 3.5 gpm (13.6 lpm) flow and up to 60 psi (4.2 Bar) of pressure. Pumps are self-priming and can safely run dry if necessary. Soft noise absorbing mounts reduce annoying background noise while running. Utilizes 1/2" (13mm) snap-in port fittings and the built-in pulsation eliminator reduces frequent pressure surges. Suitable for use with many chemicals and agricultural sprays as the diaphragms are Santoprene and the check valves are Viton.