Split System Air Conditioners - Samsung, Daikin, Mitsubishi
A split system air conditioner is named as such as the system comprises of an indoor and an outdoor unit. Unlike the older style wall window unit which comprised of just the one unit.
Split system come in many styles and capacities. The correct unit can be chosen depending on room size and lay out. The most common styles includes wall mount, ceiling cassette and floor mount.
Benefits of a Split System Air Conditioner:
Quiet indoor and outdoor units
Outdoor unit can be up to 30m away from the indoor unit
Modern styling
Cooling and Heating
Brands available:
Our most popular Split System would be the Daikin Inverter.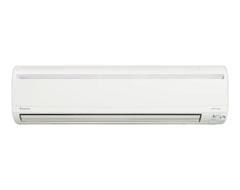 Daikin
With a wide variety of indoor units available, it is easy to select a model that matches your home décor and blends in unobtrusively.
A Daikin Multi-Split air conditioning system gives you the ability to control indoor units individually. This means the ideal temperature can be maintained while ensuring running cost are kept low as only rooms requiring air conditioning are switched on.
Download Daikin Brochure for more information.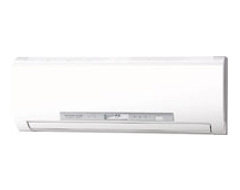 Mitsubishi
The MSZ-FB Series "F-Inverter" split system air conditioner combines 6 star energy efficiency, quiet operation and advanced air filtration for the ultimate in room comfort.
For the ultimate in clean air conditioning, Mitsubishi Electric has created the deluxe inverter split system. These models feature the unique moving i-See Sensor, one of the most advanced temperature sensors on the market. The i-See Sensor constantly scans the floor level temperature seeking out hot or cold spots and automatically directs the airflow to correct the temperature.
Download Mitsubishi Brochure for more information.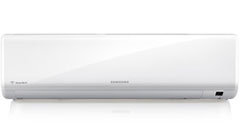 Samsung
The new Samsung Smart Series™ air conditioning units allow you to control your comfort in an exceptional way.
Wi-Fi enabled Control*
Control your comfort from virtually anywhere* if you have a compatible Android™ or iOS Smartphone as well as access to a Wi-Fi internet connection in your house, you can connect this new range of air conditioning and control is literally at your finger tips, virtually no matter where you are.
D'Light Cool Mode
The new Samsung Smart Series™ range of air conditioning units have a feature called D'light Cool Mode. In D'light Cool mode the unit measures both Temperature and Humidity. In humid environments even at a cool temperature, humidity levels can be high, making the occupants feel uncomfortable. The Samsung Smart Series™ air conditioning unit used in the D'light Cool mode will make an assessment of both temperature and humidity.