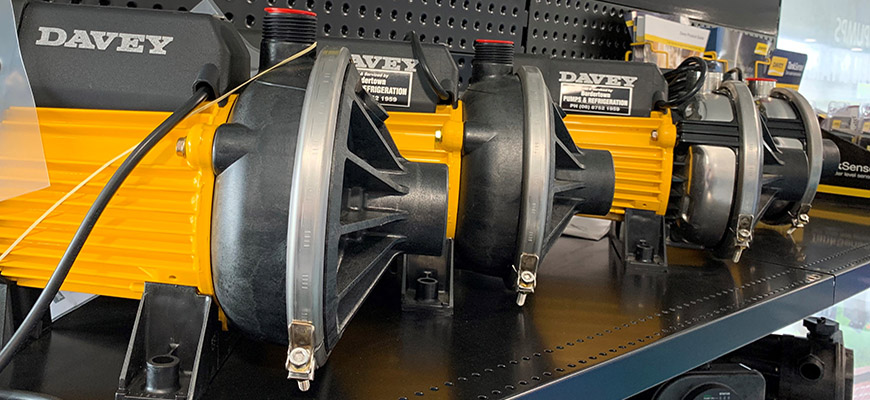 Pumps
Pressure Pumps
Pressure pumps are used for pressurising water systems for a variety of uses. They most commonly draw water out of a storage tank but can suck from a dam or river.
As pressure pumps operate automatically, the water system is kept constantly pressurised, providing a constant water supply. Systems can be controller via a pressure switch or by electronic speed control to give a more even system pressure and give energy savings.
Brands Available:
Fixed speed and variable speed pumps
Fixed speed operates at one speed and duty point and works well when the quantity of water required is relatively constant.
Variable speed provides the flexibility to deliver the quantity of water required at a given time. Excellent for applicants where a wide range of duties are required and offer power savings.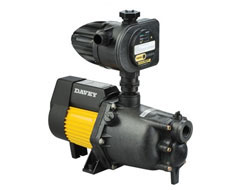 XJ Water Pressure Systems
Dynajet XJ pumps are an ideal home pressure system to use when drawing water from a level that is below the pump such as in a buried or partially buried tank.
Grundfos CMB range of pumps
Available as a self-priming pump with a PMI / 2 Control offering dry run protection
OR as a pressure switch system for specific application
Grundfos Variable Speed Pumps
Grundfos offer a range of pumps with variable speed to maintain constant pressure and power savings. Such as the CMBE and CRIE Range.
Southern Cross
Horizontal Multi Stage pumps
Quiet and efficient with flows up to 120 L/min
Back to top
Bore Pumps
Bordertown Pumps can supply, install, repair and maintain a variety of pumps for the domestic, rural and commercial sectors.
Submersible: As the name suggests, the submersible pump is located in the bore itself and below the water level, 'submerged'. This style of pump is very efficient and can pump water out of the bore for a variety of applications including:
Tank Filling
Garden and turf watering
Irrigation
Stock water
Brands Available:
Submersible Pumps
These come in a range of diameters ranging from 3" to 12" (75mm to 300mm) depending on the bore size and application.
A wide range of slow rates are available (15 L/min up to 3600 L/min) and ability to lift water from considerable depths.
Grundfos SQ3 Also available as a variable speed unit to maintain a constant water pressure.
Grundfos SQ 3" submersible pumps
The SQ is a compact, 3" multistage centrifugal pump that can be installed in a borehole no larger than the pump itself. With their built-in electronics, SQ pumps are very easy to install and operate. They guarantee a reliable water supply at all times.
Deep Well Jet Pumps
Surface mounted Pumps that are robust and ideal to suck water from depths down to 25m. Their operation is relatively simple and lend themselves to DIY installation, plugging into a standard powerpoint.
Onga OJ700 – Farm Pump
The Farmmaster OJ series are the flagship of the Onga range, offering performance, efficiency and reliability in a solid cast iron casing. These pumps have evolved with the needs of Australian farmers and landowners since Onga's beginnings in 1967. They have benefited from over 35 years of outstanding pump engineering.
Solar Pumps
Applications:
Livestock watering
Irrigation Systems
Tank filling
Rural water supply for homesteads
Fountains
Why a Franklin Electric SubDrive SolarPak
Combat rising electricity / fuel prices
Operate in conjunction with water storage solutions to ensure sufficient supply in times of hot weather and peak demand
High flow system for fast tank fill and significant water output
Can be installed where no electricity available
Soft start feature prevents water hammer and increases system life
Eliminate windmill maintenance costs
Environmentally friendly
Why Bordertown Pumps & Refrigeration?
Quality product from a local, trustworthy service supplier
Highly competitive pricing
Technicians available for after sales service, as required
125V DC and higher require certified electrician for installation
How much water will my livestock need?
| | | | | |
| --- | --- | --- | --- | --- |
| | per head | per 50 | per 100 | per 200 |
| Cattle | 30-55 L/day | 2.75m3 | 5.5m3 | 11m3 |
| Sheep | 5-10 L/day | 0.5m3 | 1m3 | 2m3 |
| Dairy Cattle | 70 L/day | 3.5m3 | 7m3 | 14m3 |
| Pigs | 10 L/day | 0.5m3 | 1m3 | 2m3 |
What size system will I need?
Based on the average number of daylight hours and ground water depth for Bordertown, South Australia the following guide can be used to determine which SolarPak solution will be suit your needs:
| | |
| --- | --- |
| Average m3 daily water production over a year | Optimum SolarPak Solution |
| 10 | 25 SDSP – 0.55Kw with 4 x 200w panels |
| 15 | 25 SDSP – 0.55Kw with 6 x 200w panels |
| 20 | 45 SDSP – 0.55Kw with 7 x 200w panels |
| 15 (with 80m head) | 45 SDSP – 0.55Kw with 16 x 200w panels |
Bordertown Pumps & Refrigeration can supply the frame at an additional cost, or you can fabricate your own, which ever option best suits your needs and budget.
Pool Pumps
The unique environment of a swimming pool required specific pumps for this purpose. Pumps are available for above ground or in ground pools in a variety of styles and options. Some pool pumps offer energy savings and reduced operating noise.
Solar heating pumps, for the circulating of water through the solar collectors are also available. A range of cartridge, sand filters and water chlorinators are available to compliment the pump range.
Brands Available:


Onga PPP550 – Swimming Pool Pump
The Onga Pantera pool pumps have been specifically designed to incorporate features that will provide reliable and efficient pump operation.
Engine Driven Pumps - Davey Pumps, Pumpmaster Pumps
Engine driven pumps are ideal for the transfer of water when power is not available. The motor is directly coupled to the pump end making the units compact and relatively light.
Engine drive pumps come in a variety of motor and pump sizes and can provide flows up to hundreds of litres per minute.
Engine Driven pumps are most commonly used as fire fighting units however can also be used for transferring water and with the correct system, transferring liquid fertiliser.
Brands Available:
Davey Engine Driven Firefighter - Petrol
Protect what matters most with Davey petrol driven single and twin stage pumps for firefighting and for places where power may not be easily available.
Poly Transfer Pump
If you are looking for an engine drive pump to transfer liquids not normally pumped by traditional metal pumps, look no further.
Prime Power has a 2" Poly Transfer Pump that has a flow of over 500lpm and a max head of 32m. Viton seals, stainless bolts all with a 5.5HP Honda are standard with this unit.
The pump is supplied with an intergrated handle for easy lifting, with pump internals that handle various liquids for around the farm.
Sea water and saline ground water are also able to be successfully moved.
Sump Pumps
Sump pumps provide a low maintenance means of pumping water out of sumps, ponds and tanks. They can be fitted with a float switch for automatic operation or as a manual unit.
Sump pumps are available in a wide variety of capacity and motor sizes for a wide range of applications. Pumps can be of a standard type for relatively clean water, Vortex models for larger soft solids or cutter and grinder pumps for more fibrous solids.
Some of the applications include grey water, pool and tank draining, cellar sumps and general dewatering.
Brand available:

General Purpose Vortex Sump Pumps
Able to pump clean or grey water of neutral pH containing up to 20% soft solids or 1% fine solids. Some wear should be expected when pumping hard solids in suspension.
Unilift KP
Unilift KP pumps are submersible drainage pumps suitable for both temporary and permanent free-standing installation. They can be used for pumping drain water or grey wastewater. They are also suitable for installation in collecting tanks.
12 Volt Pumps
Being powered by 12v DC these pumps are used in the automotive sector. Pumps are available with built in pressure switches for automatic operation or as a simple on/off arrangement.
Coming in different build specifications, they are suitable for potable (drinking) water, general water and chemicals.
Some of the applications include small spray units, caravan and campervans.
Flojet Triplex Model 03521-500A Pressure Pump 12v DC (Santoprene/Viton) 13.6 L/Min Max
The triplex diaphragm series features models that deliver 3.5 gpm (13.6 lpm) flow and up to 60 psi (4.2 Bar) of pressure. Pumps are self-priming and can safely run dry if necessary. Soft noise absorbing mounts reduce annoying background noise while running. Utilizes 1/2" (13mm) snap-in port fittings and the built-in pulsation eliminator reduces frequent pressure surges. Suitable for use with many chemicals and agricultural sprays as the diaphragms are Santoprene and the check valves are Viton.
Transfer Pumps
Transfer pumps are a simple way of shifting water from one point to another. They are supplied as a pump with no automatic controls.
Available in a variety of sizes for a wide range of applications. Flow rates from around 50L/min up to whatever is required, depending on water supply and power available.
Overhead tank filling, transferring of water, spray cart filling and general wash down duties are just some of the applications these pumps are suited to.
Brands Available:
Onga Hi-Flo Transfer Pump
The 400 series of Onga Hi-flo pumps provide water flows up to 270 litres a minute or maximum pressure up to 26 metres.
Davey Transfer Pump
Ideal for pumping clean, nonvolatile liquids without fibres or solids in such applications as: Irrigation, Aquaculture, Water transfer, Washing systems and Hydroponics.