Engine Driven Pumps - Davey Pumps, Pumpmaster Pumps
Engine driven pumps are ideal for the transfer of water when power is not available. The motor is directly coupled to the pump end making the units compact and relatively light.
Engine drive pumps come in a variety of motor and pump sizes and can provide flows up to hundreds of litres per minute.
Engine Driven pumps are most commonly used as fire fighting units however can also be used for transferring water and with the correct system, transferring liquid fertiliser.
Brands Available: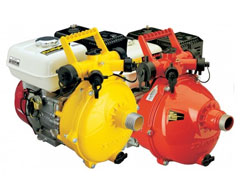 Davey Engine Driven Firefighter - Petrol
Protect what matters most with Davey petrol driven single and twin stage pumps for firefighting and for places where power may not be easily available.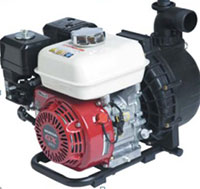 Poly Transfer Pump
If you are looking for an engine drive pump to transfer liquids not normally pumped by traditional metal pumps, look no further.
Prime Power has a 2" Poly Transfer Pump that has a flow of over 500lpm and a max head of 32m. Viton seals, stainless bolts all with a 5.5HP Honda are standard with this unit.
The pump is supplied with an intergrated handle for easy lifting, with pump internals that handle various liquids for around the farm.
Sea water and saline ground water are also able to be successfully moved.