Sump Pumps
Sump pumps provide a low maintenance means of pumping water out of sumps, ponds and tanks. They can be fitted with a float switch for automatic operation or as a manual unit.
Sump pumps are available in a wide variety of capacity and motor sizes for a wide range of applications. Pumps can be of a standard type for relatively clean water, Vortex models for larger soft solids or cutter and grinder pumps for more fibrous solids.
Some of the applications include grey water, pool and tank draining, cellar sumps and general dewatering.
Brand available: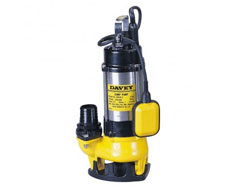 General Purpose Vortex Sump Pumps
Able to pump clean or grey water of neutral pH containing up to 20% soft solids or 1% fine solids. Some wear should be expected when pumping hard solids in suspension.
Unilift KP
Unilift KP pumps are submersible drainage pumps suitable for both temporary and permanent free-standing installation. They can be used for pumping drain water or grey wastewater. They are also suitable for installation in collecting tanks.